Massage Ball Fire 🔥 Bowl Salt Lamp
Regular price

Sale price

$55.00 AUD

Unit price

per
Measures 6 inches
Enjoy the natural salt carved balls ideal for massaging knots and aches in the muscles. 
Simply take one or 2 massage balls from salt lamp at a time and starting rolling on your body, tense muscles or use your own body weight and gravity to relieve muscle knots and tension.

Enjoy with therapy massage and warm flirting glow and calming light with 5 massage balls and bowl lamp. Massage anywhere - massage ball salt lamp will be perfect for use while sitting on any chair, laying in Bed, on the floor, or on a yoga mat. Use them at home, office or gym.

Handcrafted from natural salt crystals mined from the Khewra Salt Mine in Pakistan, our Fire 🔥 Bowl Salt Lamp is perfect for creating ambience in any room.

Salt Lamps have the reported health benefits of purifying the air, soothing allergies, boosting your mood and helping you to sleep as they are a natural ionizer, clearing the air from dust mites and bacteria, therefore improving the quality of the air we inhale.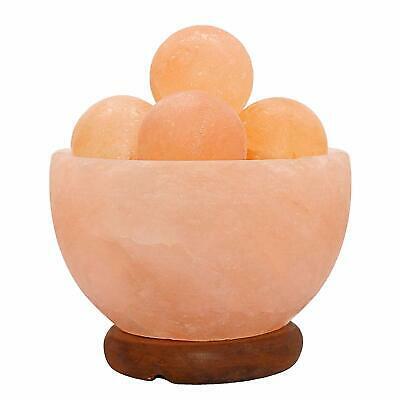 The salt lamps vary in size, colour and shape resulting in a one of a kind piece that'll set your home apart.
Share